Investing in luxury furniture is an important step to curate your home with beautiful, long-lasting pieces. While we're all familiar with the term luxury, it's a word that's open to a lot of interpretation. Putting an expensive price tag on a sofa doesn't always signify the mark of luxury.
Designer's Mark proudly offers only the most exclusive luxury furniture brands. Our team of interior design consultants recognizes the distinct elements that define truly luxurious furniture.
Join us for our exclusive tips on how to choose luxury furniture!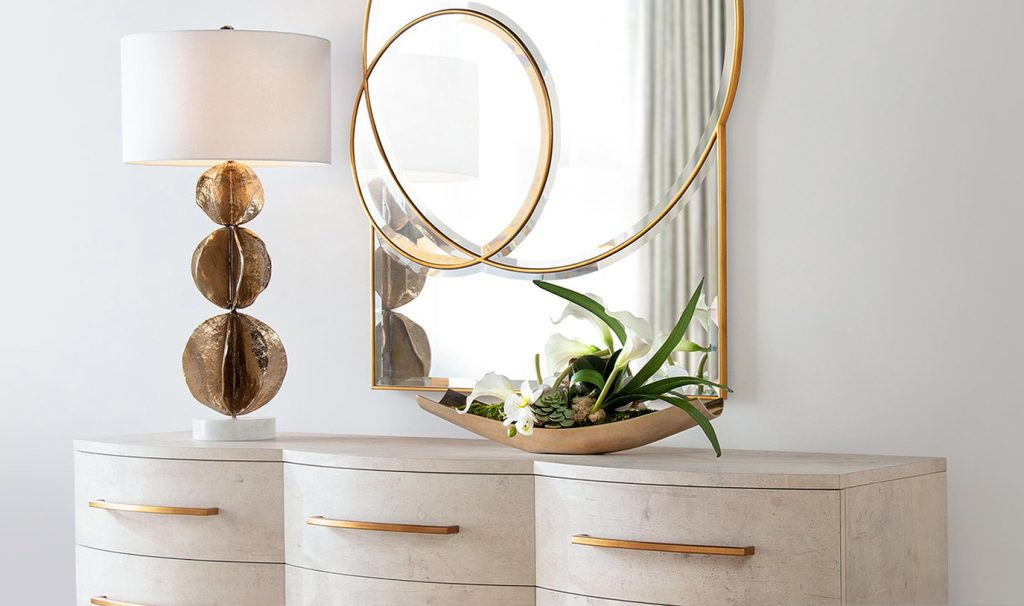 What Is Luxury Furniture?
No matter your style, purchasing luxury furniture adds instant appeal to any space. It can create a sense of beauty and elegance. But what defines luxury? Let's explore!
Design Elegance
Whether you prefer mid-century modern, contemporary, organic or anything in between, luxury furniture is timelessly stylish. One of the best ways to check for this is by ensuring every element of the piece seems intentional. Every finish, from the frame to the upholstery, should look flawless. Luxury furniture is not only functional, it's a work of art.
Quality Materials
In a world of fast furniture, finding exceptional materials can be difficult. Luxury furniture brands pay the utmost attention to the quality of their materials. Luxury materials are not only visually appealing, but they also need to be durable and comfortable. Raw materials such as fabrics, glass, metals, acrylics, and wood all determine the luxurious quality of any furniture piece.
Fantastic Craftsmanship
Luxury furniture brands take great pride in their work. Because luxury furniture is not mass-produced, their job takes an incredible amount of time, patience, and expertise. The work of a craftsman is an art within itself. Their passion and dedication allow them to create quality pieces to be enjoyed for generations to come.
Tips On Choosing Luxury Furniture
Understanding the components that define luxury furniture is critical to finding quality pieces that match your wants and needs. Here are some of the top tips from the experts at Designer's Mark.
Aesthetic
Your space should reflect your personality. It's critical to familiarize yourself with every aspect of a luxury piece to make sure that it fits into your vision for the space. Question if the furniture will work with items you already have. Be sure to take note of size and space to ensure it's not too large or small for the area. Your personal aesthetic is influenced by factors including color, balance, movement, scale, pattern, shape, and visual weight. If you find yourself drawn to several different styles and motifs, the experts at Designer's Mark can help you decide on pieces that work together.
Contrast
One of the best ways to create an instant wow factor in any space is to provide elements of contrast. If you stick with one color or dimension, it will often look sterile and uninviting. Think about how a bright or textured occasional chair will work with more traditional luxury furniture. You can also add accessories in different sizes and shapes to create specific points of interest.
Theme
Any space needs to feel cohesive. If an area doesn't have a semblance of a theme, it can feel mismatched and clunky. Having a theme makes a room feel streamlined. It also has the transformative ability to make even small rooms feel larger. Think about how colors and textures will complement pieces you already own. Be mindful of elements such as lighting and accessories.
Space
Having a united theme is crucial but it doesn't have to run through every room in your home. For example, you may want a modern feel in your living room but a country-chic look in your bedroom. Luxury furniture allows you to incorporate timeless beauty into any space. Each room in your home should reflect your style.
Stay Mindful
Purchasing luxury furniture is a lot like purchasing designer clothing. Owning them can make you feel fabulous but owning too much can feel tacky and pretentious. Choose a few luxury pieces to define a space. Due to their unique nature and unmatched quality, luxury pieces can be a substantial investment. Knowing exactly what you are looking for and creating a pre-conceived budget are crucial to making the right decision.
Functionality
Luxury furniture should be beautiful but at its core, it also needs to be functional. Your home is your castle and you deserve to feel as comfortable as possible. Investing in quality pieces gives you the best of both worlds. For example, you may have found a fantastic chair but what's the point of buying it if it's too uncomfortable to use? Finding the right balance between functionality and beauty is crucial to interior design.
Hire A Professional
Combining themes and designing for different rooms can be difficult. With help from the professionals at Designer's Mark, it doesn't have to be. Help from experts allows you to decide on luxury pieces that work well together. Having a sense of direction for your vision takes the stress out of choosing luxury pieces. Some benefits of hiring a professional include:
Space assessments
Decision-making advice
Access to luxury brands
Budgeting advice
Theme expertise
Professional interior designers have an eye for even the smallest details. Their unique skills ensure that any piece of furniture will fit perfectly in your home.
Luxury Furniture In Boca Raton
At Designer's Mark, we understand the importance of sourcing quality furniture that fits your aesthetic while still remaining functional. Our team of design consultants works closely with you to find pieces you will be proud to own for years. Luxury furniture withstands the test of time while fast furniture can go out of style quickly. Designer's Mark proudly hosts some of the most well-respected luxury furniture designers from around the world. Since 2017, we have been the premier interior design showroom in Boca Raton.
Ready to Make Your Mark?
Whether you're looking to redesign an entire room or incorporate a statement piece, we work with you every step of the way. If you have any questions about our luxury brands or services, call us at (561)-961-4149 or visit our showroom today!
---