Custom Designer Furniture
Furniture is a home essential: it sees heavy use, and also has a large impact on your home's style. Whether you're filling a single spot or filling a new home, the furniture you choose reflects your individuality and your style vision. The push for designer furniture is as present as ever, offering you quality, timeless design, and guaranteed sustainability.
Still on the fence? Here's what custom and quality can give to your home.
Finding Your Individuality
The home is an expression of the self. This is your haven: perhaps where you work, definitely where you relax, and, most importantly, where you entertain. Different parts of the home serve different purposes, but every space needs to be outfitted with pieces that match form and function effortlessly.
There's an astounding difference between mass produced items and designer furniture. High-end furniture is created by smaller teams, often working with natural materials and on a to-order basis. Designers themselves spearhead collections and draw inspiration from all over the world, resulting in furniture that its inspired instead of just made.
The opportunities for self expression abound with custom furniture. Mass produced items are often simplistic in nature, built to be an easy fit for many different styles and uses. More importantly, they're not always built to last. Designer furniture treats each piece like a work of art. Expert in-house artisans use natural and sustainable materials and traditional build methods to create unique furniture that's assembled with care.
The option to customize also plays a key role in elevating designer furniture. Fabric and finish changes may seem small, but the effect those changes can have on your space is monumental. Its the finishes that tie your space together, and the ability to change those to suit your space creates a home that's more uniquely yours.
What Makes Designer Furnishings Special?
Designer accessories and furnishings work in tandem with the rest of your home's style, like color choices, designer lighting, and your vision as a whole. While you'll find the odd standalone piece every now and then, the majority of your furniture choices need to coexist with other aspects of your home. However, designer furniture always shines through for the following reasons.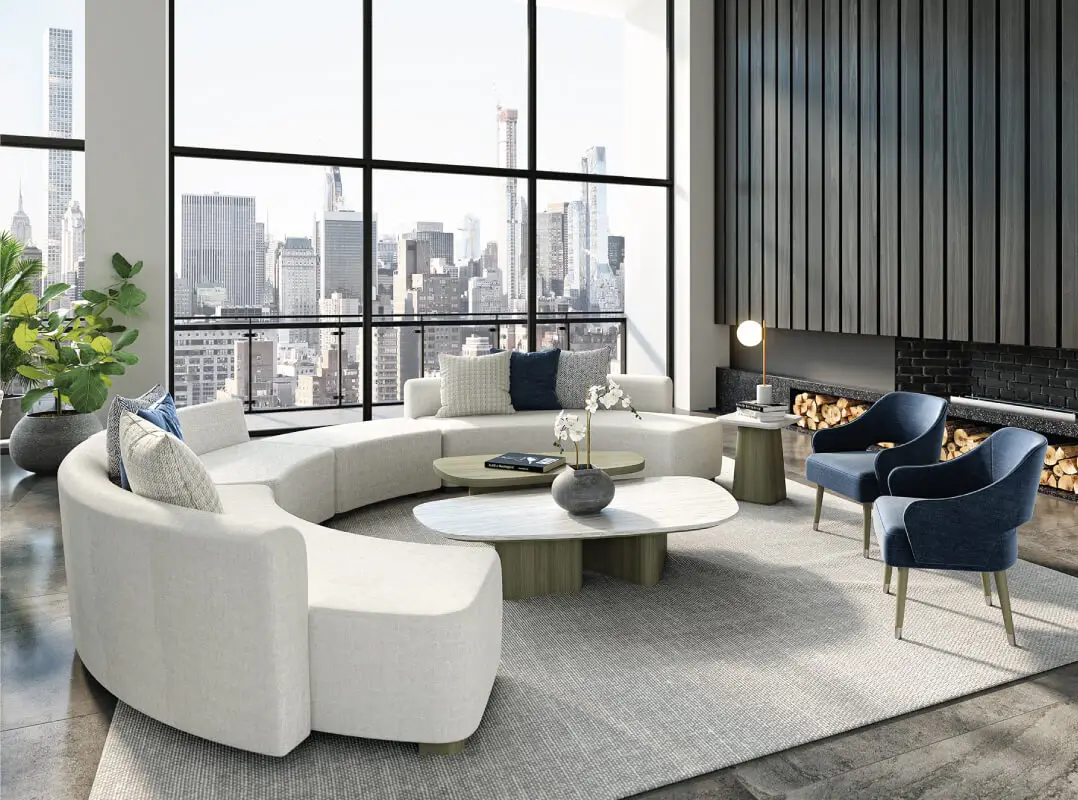 Unparalleled Quality
Furniture created by a designer is made with intent. In-house methods of creation and materials sourced with sustainability in mind mean that you're investing in something that's built to last. Hand-finished care contributes to reliable design, making furniture that will serve its purpose for much longer than mass produced items.
This equates, simply, to unparalleled quality. Trained eyes assemble furniture with experience and precision that machines just can't match, and the hand-made finishes turn every piece of furniture into a work of art.
Timeless Design
Being built to last also means standing the test of new waves of design trends. Of course, what's "trendy" is always a touchy subject. Your own personal style is always the most important, as trends come and go with time.
When we talk about timeless design, we're talking about furniture that can fit across several design styles while still keeping your individuality. Many designer items get passed down as heirlooms, their construction and form crossing generational gaps and style trends.
Custom Furniture In Boca Raton

Thinking of making your mark with designer furniture? We know that quality is something that's better seen in person. At the Designer's Mark Boca Raton showroom, you can see designer pieces up close. Our interior design experts can help you bring your vision to life, guiding you through custom options to make your furniture your own. Give us a call at (561) 961-4149 to book a private consultation today.