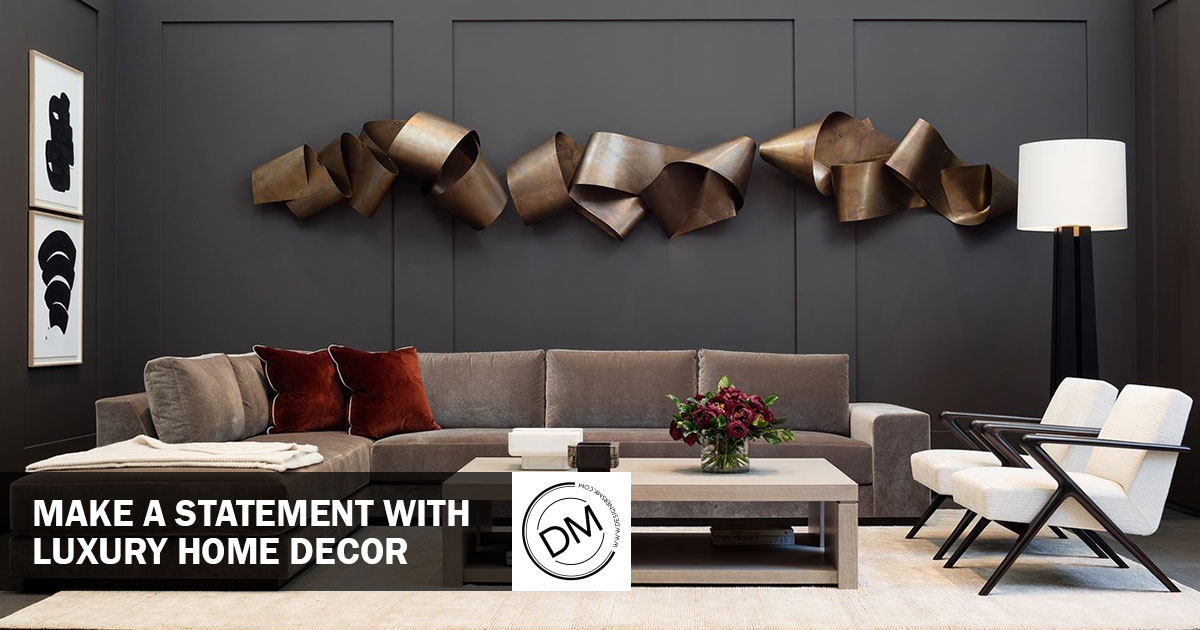 As the world of interior design is constantly evolving, opting for a luxury home decor piece could be a better option instead of embarking on a complete renovation.
It's crucial to keep in mind that while staying up to date with trends is important, it's equally essential to incorporate them in a way that complements your personal style, rather than changing your style to match the trend.
In this article, we are going to share with you some of our top home décor picks that will inspire you.
Well Placed Mirrors
A perfectly placed mirror will augment any space. Statement mirrors can illuminate darker spaces and provide the illusion of a larger, brighter space.
For rooms that are already brightened, statement-piece mirrors accessorize the space, making the most of the natural light.
Consider this hand-welded mirror with a distressed gold leaf finish designed by Bunny Williams from one of our brands, Mirror Home.
Lighting Options
Luxury lighting adds dimension and sophistication, it's one of the most important elements of interior design.
To make a statement with home decor lighting, consider the elements of the room first. Sconces, pendants, and floor and table lamps provide soft lighting for the cozy comfort aesthetic of rooms like master suites and sitting areas, while overhead light fixtures are better suited for the kitchen.
Another aspect of lighting you can't afford to neglect is functionality. Smart lighting features are a hallmark of luxury home decor.
Bold Artwork
Well-placed artwork and coordinated home decor can update any room. A striking piece of artwork adds flow to a well-curated room and can create focal points in spaces like hallways and foyers.
A large piece of artwork still makes a statement for the minimalist home aesthetic. Other options for bringing bold artwork into your interior design space to consider are vibrant abstract art or a gallery wall.
Thinking outside the box is the best way to make a statement with your home decor. Use unexpected materials, shapes, colors, and textures in your design scheme.
Statement Furniture
Statement-piece furniture can still elevate home decor with functionality and improved comfort. Tall upholstered headboards create an anchored look to design the rest of the room's aesthetic around, for example.
For common areas, statement furniture can be as simple as including a bold color accent chair, bench, accent table, or ottoman.
Natural elements inspired by Asia and Africa will be the front-runner for modern furniture in 2023, so expect statement furniture to include materials like wood and metal.
Sophisticated Colors
Color can do so much for your space. It can make it look bigger, warmer, and more functional. Instead of painting everything in sight a bright hue (which could actually make your home seem smaller), try adding one or two accent pieces that bring some life into the room.
Beyond simple paint colors, luxury home decor items can add elegance and texture. Window treatments are excellent options as statement pieces that upgrade the room. Vivid colors, patterns, and textures found in custom-designed window treatment options, furniture fabrics, and pillows can transform any aesthetic.
Home Decor in Boca Raton
Get in touch with our design consultants to explore the possibilities with luxury home decor and custom furniture. Call us today at 561-961-4149 to schedule an appointment in our Boca Raton Showroom or visit our online interior design gallery for inspiration.
---