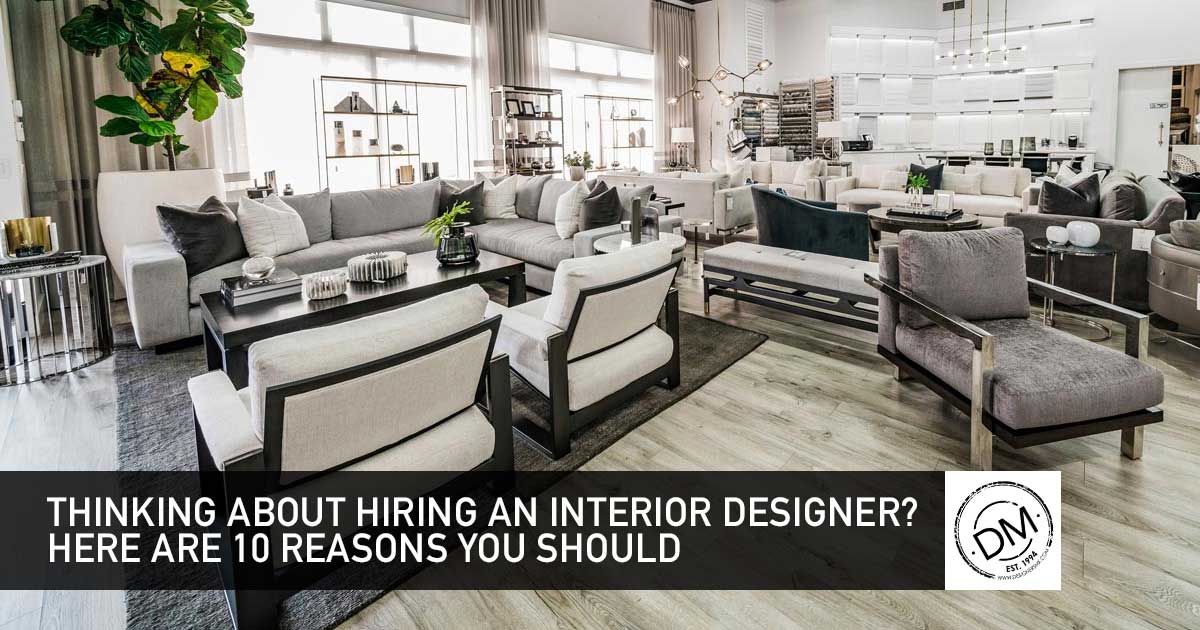 If you want to create the perfect home or office space, then hiring an interior designer to do the job, is the smart choice to make.
If you have already invested a lot of money into buying your home, then it is important to choose the best pieces of furniture and accessories to complete the look. Interior designers have the experience to help you bring your vision to life.
If you're thinking about hiring an interior designer, here are 10 reasons you should:
1. Time Saver
If you have an idea in mind for how you want your space to look, it can take a lot of time and effort to find everything you want.
Interior designer specialists are in the know about where to go for luxury brands that suit your budget. Hiring a designer can save you hours spent researching for the right products, brands, and prices, to make your dream space a reality.
2. Money Saver
Although it costs money to hire an interior designer upfront, choosing an experienced designer will actually save you money in the long-run.
A designer will be able to give you a good idea of the overall costs in the beginning so that you can prepare a budget and plan. A good interior designer can help you avoid expensive mistakes, and has access to a network of suppliers and tradesmen.
3. Expert Design
Interior designers are knowledgeable and expertly trained to have a keen eye for detail when it comes to choosing what pieces are right for a particular space. Simply filling your home with all of your favorite things may not give you your desired end result.
4. Increase Home Value
Hiring a professional to decorate your home can significantly increase its value.
Interior designers are professionally trained to choose pieces that both maximize your space and create great aesthetic appeal. If you're interested in selling your home, it can be in your best interest to have it professionally decorated to increase its value and appear better in photos.
Not only will it speed up the time your home is spent on the market, but it is also likely to make you more money on the sale.
5. Liaising
An interior designer can be a great liaison between your architect or contractor, to avoid design mistakes early on.
Having a clear vision of how the furnishings will look will help the architect and contractor bring the vision to life. Professional designers can see things that you might miss, such as where plug outlets should be for accessibility or what type of light fixtures best complement your space.
6. Better Resources
Interior designers work in the world of home improvement which gives them better access to resources and contacts.
Your interior designer will be able to recommend architects, contractors, electricians, and plumbers that they trust. Designers will also have access to the best fabrics and pieces that aren't always available to the public, making your space that much more unique.
7. Luxurious Living
Choosing to hire a professional can transform your space into a luxurious way of living.
Interior designers are able to think outside the box and select pieces that offer style and sophistication. Choosing something as elegant as a Feizy rug adds a luxurious feel to your home or office.
8. Quality Product Selection
Since designers furnish spaces for a living, they are already familiar with the best brands on the market. A professional designer can guide you into choosing the best quality products they trust, which will help make your money go further in the long-run.
9. Tasteful Themes
If you're someone that loves a good decorating theme for your home or kids' room, then you should definitely consider getting a professional's opinion to make sure it is done tastefully. Interior designers can select the right color palette and designer wallpapers, such as Anna French, to suit a particular theme for an entire space or room.
10. Trend Spotting
Interior designers are always on top of the latest trends.
If you're renovating an older home or choosing to remodel your bathroom or kitchen, they can help you make a transition from classic to modern.
Choosing The Right Interior Designer For You
Designer's Mark has 25 years of experience in the design industry and specializes in high-end luxury space designs. Our team of sophisticated designers work with some of the highest quality brands on the market, to create a timeless space with the perfect combination of style, beauty, and comfort. Visit our showroom today, or give us a call at (561) 961-4149 to discuss your interior design needs.
---