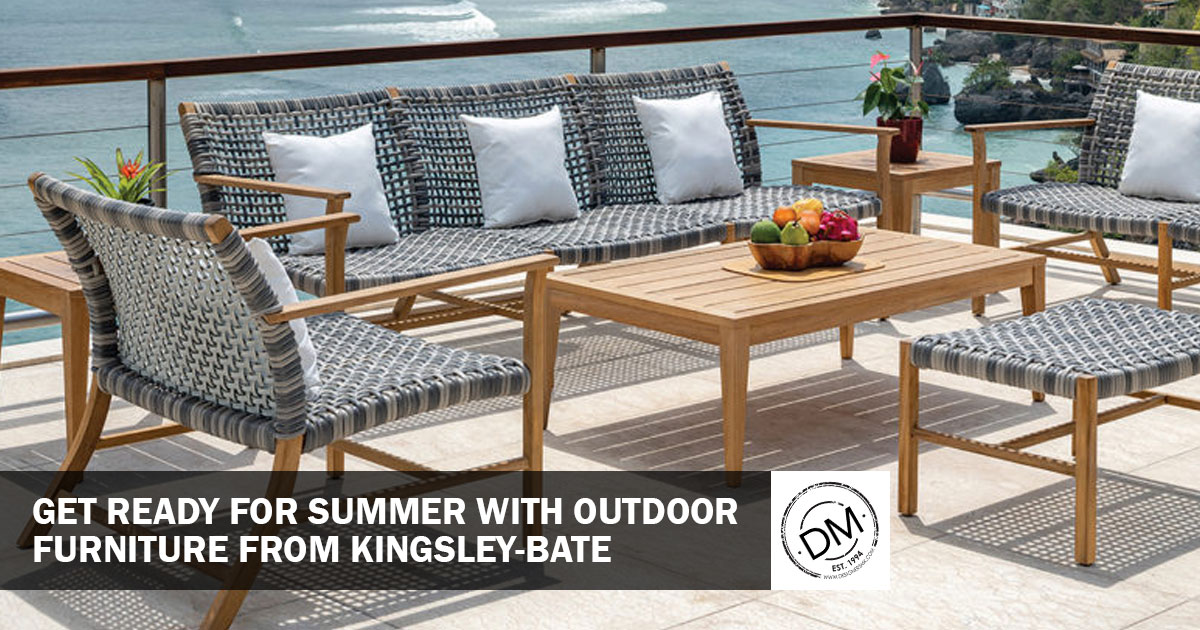 Summer is right around the corner, and with it comes months of entertaining outdoors. Kingsley-Bate outdoor furniture can transform your backyard into a haven of relaxation, leaving you ready to enjoy summer stress-free. We've picked out some of our favorite outdoor furnishings from their collections to help inspire you to try something new this season.
Creating a Haven With Kingsley-Bate Furniture
There's a misconception that outdoor furniture isn't as nice or comfortable as designer interior furnishings. Year after year, outdoor furniture by Kingsley-Bate has proved this false. Their collections bring luxury and elegance to outdoor living, showing without a doubt that you never need to compromise on sophistication.
It's also clear they understand and embrace the different sides of luxury. Some homes benefit from sleek and modern furnishings, while others work best with a relaxed, beach-side feel. No matter your style, Kingsley-Bate furnishings are made with exemplary craftsmanship, ensuring quality products that stand the tests of time and weather.
Designer Spotlight
With so many available collections, it can be tough to know where to start. We've chosen some of our designer favorites to get you inspired. From the backyard basics to leveling up your style, Kingsley-Bate offers quality luxury year after year. They're committed to providing quality while remaining environmentally conscious, and they embrace this with natural tones and inspirations.
Catherine
The Catherine collection is part of their range of teak furniture and is available in Ash. Ash combines soft blues and grays for a relaxed, maritime feel that remains sophisticated. The woven strips on the natural wood frame feel comfortable and breezy, making this a good choice for seaside views and outdoor entertaining.
Frances
The Frances range is available in nine different neutral tones, making this easy to style with existing furnishings or backyard structures. They're made with all-weather wicker and teak hardwood, and the coffee table and side table have space for storage for long summer days outdoors. The sloped armrests feel elegant and timeless, and they're perfectly accented by throw cushions for comfort and color.
Tivoli
For those after a more modern feel, we recommend the Tivoli collection. This is one of two ranges by Kingsley-Bate made from stainless steel and is comprised of several sectional pieces that work together. This is the gold standard for a backyard that will see guests entertained— you can create the table and seating arrangements that will work for your guests and your space.
Accessories By Kingsley-Bate
There's more to backyard furniture than chairs or tables alone. Kingsley-Bate also offers a wide range of accessories to complement their collections, ranging from bar carts to throw cushions. Furniture covers are essential for extending the lifespan of your outdoor furnishings, and storage boxes help keep cushions and extras protected in the off-season.
Outdoor Furniture in Boca Raton
Kingsley-Bate offers innovative and elegant outdoor furnishings that stand the test of time and elevate your style. Here at Designer's Mark, we'd love to assist you in selecting options that would transform your outdoor space into a haven that's cohesive & suitable for entertaining.
Make entertaining easy this summer with Kingsley-Bate and Designer's Mark. Contact us at (561) 961-4149 for a private showroom consultation with one of our consultants, and see what Kingsley-Bate can offer your space.
---