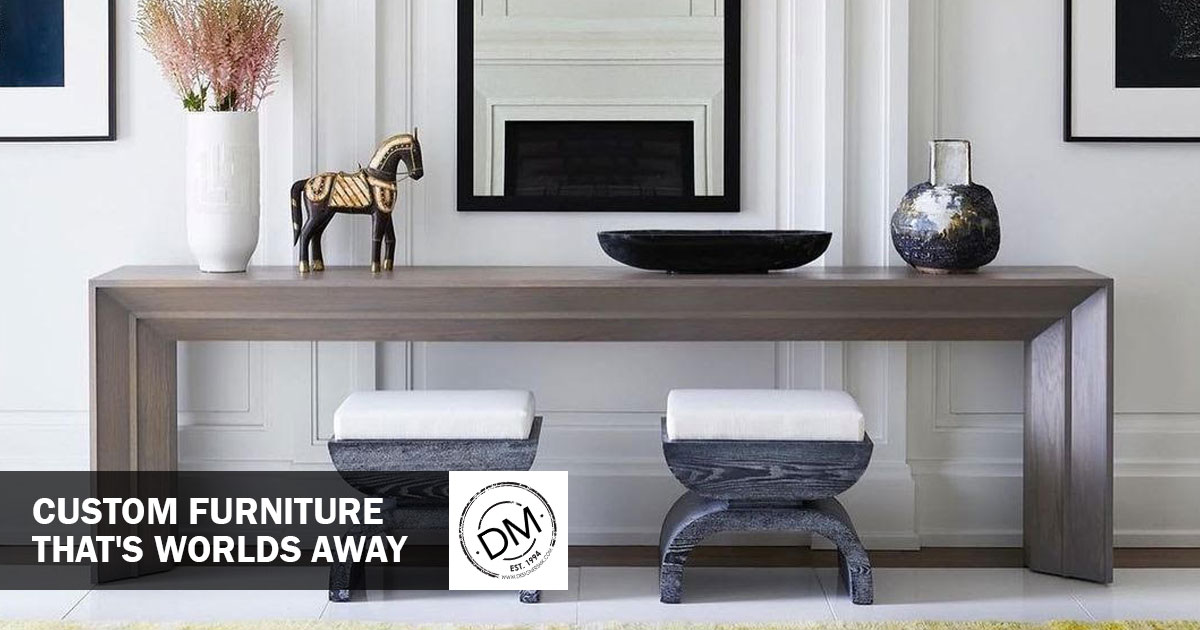 It all started in 1992 when the founders of Worlds Away took a trip to awe-inspiring San Miguel de Allende, Mexico. There they came face to face with the lost beauty of painted tole. After beginning as an import company, they began to expand their brand by embracing beautiful, handcrafted lighting and hand painted metal furniture. Worlds Away offers custom furniture options that appeal to any aesthetic. Here, the experts at Designer's Mark take a closer look at some of their stunning options.
Custom Furniture from Worlds Away
With a portfolio full of rich textiles and upholstery options, Worlds Away makes any space in your home feel like a luxury vacation. Whether you are looking for eye-catching home accessories or functional pieces, custom furniture from Worlds Away provides a modern twist on the ever-popular Hollywood Regency style.
Home Accessories and Lighting
Furniture is made to be functional, but the right accessories and lighting showcase your personality and style. Worlds Away offers hundreds of home accessories in a variety of materials, including antique mirror, glass, gold and silver leafing, marble, shagreen, and so much more! From small sculptures to functional trays and containers to wastebaskets and tissue box covers, accessories from Worlds Away will elevate any space. Fantastic lighting is crucial to setting the mood of your rooms. Offering chandeliers and pendants, table lamps, floor lamps, and sconces, custom lighting from Worlds Away will help to define your space. Unlike other companies, they also offer a variety of lampshades to make their pieces truly your own.
Casegoods and Etageres
For those looking for unique and functional pieces, Worlds Away offers an incredible variety of custom furniture to help organize your space. Storage is key to keeping your space clean and organized. The gorgeous array of casegoods Worlds Away offers is a fantastic way to store books and other household items stylishly. Their artisan casegoods include buffets, media consoles, chests, and side tables in a beautiful selection of colors and finishes. For further organization and a wonderful way to display your accessories, Worlds Away offers gorgeous and unique etageres in several colors including black, green, gold, silver, and more!
Seating
Great seating is crucial to defining the functionality of your space. Custom furniture is one way to make a statement. For example, you would not want overstuffed recliners in a formal sitting area any more than you would want high barstools in your bedroom. Worlds Away offers barstools, counter stools, chairs, stools, and benches in a range of fabrics and finishes to provide an elegant mid-century modern touch to any space.
Tables
Whether you are looking for an occasional table to tie a room together or make a statement with a dining room table, Worlds Away offers a variety of custom, eye-catching tables. Their stunning bar carts offer a modern twist to their vintage vibe! One of the most appealing aspects of their carts is their casters and handles to take the party on the move! Their stunning cigar tables provide instant elegance without taking up much space. With unique finishes and architecture, any coffee table from Worlds Away is an instant conversation piece. They also offer a stunning custom furniture selection of console tables, desks, dining tables, ironside tables, and occasional tables. No matter your aesthetic or space, Worlds Away offers custom seating and tables to suit your needs.
Worlds Away: Custom Furniture in Boca Raton
Since 1994, Designer's Mark has prided itself on providing residents of Boca Raton with luxurious custom furniture to complete any space. Our experts are here for you to help forgo the challenges that come with selecting the perfect pieces. We are here to help you every step of the way – from selection and ordering to delivery and installation.
Designer's Mark proudly partners with Worlds Away to offer our clients captivating custom pieces that are sure to be the talk of your friends. If you are interested in designs by Worlds Away or would like to schedule an appointment at the Designer's Mark interior design showroom, call us at (561)-961-4149 or contact the Designer's Mark team online today!
---