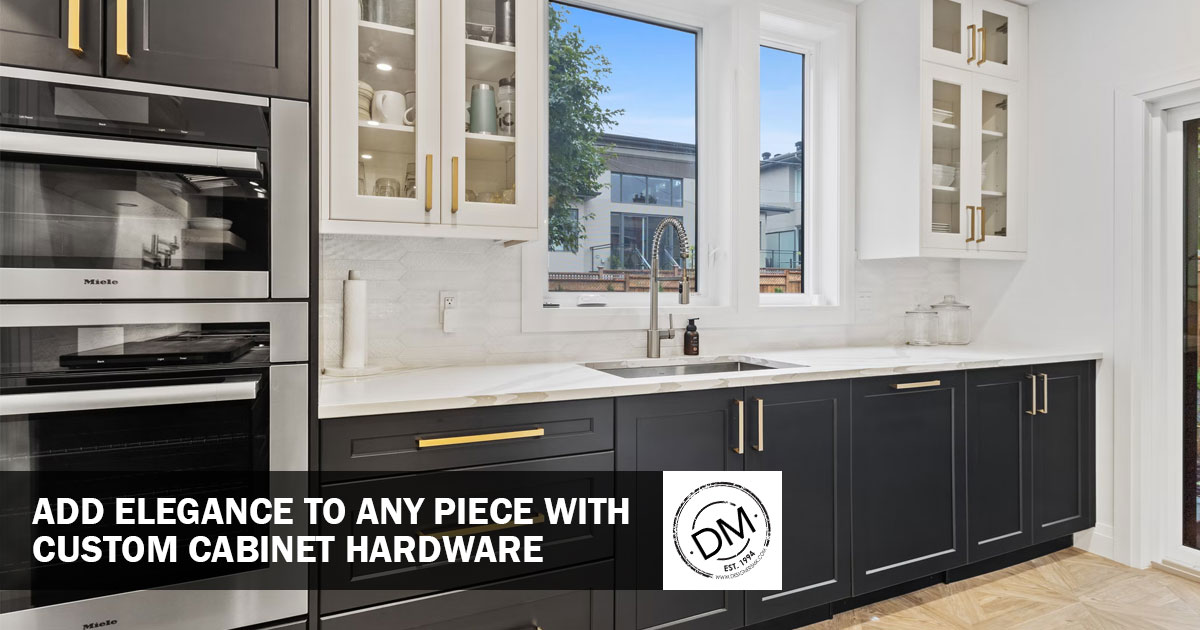 Your home's style shines through the details: custom cabinet hardware can be the difference between a space and a room that feels like yours. When designing a room, you've probably thought about the larger aspects. You might know what kind of layout you want, what sort of chairs or wall art. But when it comes to finishing touches, custom cabinet hardware can change the tone of your space instantaneously. We've compiled some of our inspirations and designer favorites for you to discover and envision your space the way you want it to be.
Exploring Custom Cabinet Hardware
When it comes to interior design, it's all about the finishing touches. It may seem like finishing touches are small, but when it comes to how they affect your space, they make a much bigger impression than it seems. Custom cabinet hardware can make a simple room pop, especially if you have neutral toned cabinets.
In contrast, if you have bold toned cabinets, gold- and metallic-finished cabinet pulls bring light into your space. The modern furniture trends are fond of rich greens and natural tones, making gold-finished home accessories their perfect partner. With custom work, anything is possible. You can get pieces you love in the finish that's complementary for your space, in both color and style.
Hardware By PullCast & Nest Studio Collection
No one says cabinet hardware has to be boring. Drawer pulls can tone down a cluttered room or liven up a sparse one, and they can be as detailed as you like. Pulls from PullCast and Nest Studio Collection showcase the variety on offer, and the extent to which you can customize your home.
PullCast
You're spoiled for choice with custom cabinet hardware from PullCast. They carry six main collections— ocean, cosmopolitan, twist, texture, and limited edition. It's clear that they draw strong inspirations from nature, with each collection showcasing a different facet and style of hardware jewelry. From the polished entries in the Cosmopolitan collection to the more outgoing Ocean range, you're bound to find something that suits your style.
The Pianoa handle is a standout of the Cosmopolitan range, the brass and marble a classic combination that's sure to stand the test of time. In contrast, the Keysa range from the Earth collection gives the impression of nature's uniqueness. Modeled after the bark pine tree, these handles are available in polished, aged, and brushed brass finishes.
Nest Studio Collection
Nest Studio Collection are masters of the basics and naturals. They offer sleek silver and gold toned finishes in an art deco style for the contemporary homeowner and provide pops of color in their Geo range. For tropical homes, we love their Lauhala series. Finished in either light or dark bronze and wrapped in screw pine leaf, these pulls feel sophisticated and modern while remaining natural. Beach-side homes and spaces that make use of a lot of greenery would easily complement the Lauhala pulls, adding just the right amount of shine.
The Organic handles were designed with inspiration from the works of Henry Moore, merging blackened and polished brass for an earthy glow. Its unparalleled in its versatility, suiting both light and dark toned cabinetry, along with a sophisticated style that blends with several home aesthetics.
Custom Cabinet Hardware Distributors in Boca Raton
Ready to make small changes that have a big impact? We know how to get your vision started. Our consultant team can't wait to chat about your style and your home, and our showroom is set to inspire. If you're looking for custom cabinet hardware, you've come to the right place. Start fresh with Designer's Mark. Contact a consultant today at (561) 961-4149 or stop by our Boca Raton showroom. You can also find many of our products on the Designer's Mark Online Store.
---