Bruce Andrews Design (BA) with headquarters based in Georgia, operates on its founding principle of design that is the embodiment of luxury, one fine piece of furniture at a time. Andrews is a South African designer with Scottish roots. The blend of his background informs his design aesthetic and source of inspiration. Since becoming established in the U.S., Andrews collaborates with global artisans using sustainably sourced materials and luxury fabrics. Bruce Andrews furniture is constructed from American kiln-dried maple with oak legging, African mahogany, alder and rosewood – layers that add to the fine craftsmanship and design composition. The creation of Bruce Andrews designs includes collaboration with an orthopedic surgeon, offering subtle, ergonomic support for the human form from seating elevation, back angle and armrest position.
The hand-molded trims of Bruce Andrews pieces are made from bronze, silver and pewter and fabricated in Los Angeles. Ferrules at the feet of a BA piece are created by a Rhode Island jeweler. BA designs are predicated on a dedication to beauty, finely detailed structure and composition.
Explore The Collections
Collection Skye is inspired by the Isle of Skye Scotland manor owned by Andrews' grandfather. Each piece evokes the mystical detail found in the Scottish Highlands landscape. The Highland Chair is finely crafted, cutting-edge construction upholstered in luxurious, highlands velvet. A narrower version of the Highland is the Skye Coastal, a graceful profile in the Queen Anne style with a down-filled internal structure. The Skye Coastal also includes an accent throw pillow.
Azure Collection pieces, like other Bruce Andrews furniture designs, are constructed from Grade A, FSC-certified kiln dried American maple. Upholstery is stabilized with steel corrugated straps and ply grips which secure the strapping to the frame and prevent sag. This meticulous construction allows the BA piece to retain its form and function for years.
The Bantry Bay Chair is named for the affluent suburb of coastal Cape Town. The Hout Bay Sofa is a classic, generous piece with sloping arms and fluid backing for luxurious comfort. The Hout Bay is available in 8 sizes and includes 3 large back support and 8 accent kidney pillows.
The recently launched Esme Collection is a balance between modern transitional, fine detail and finish. The Pavel Sofa is inspired by the form and muted tones of California coastal stones. Its sumptuous shape and clean lines invite comfort, while maintaining a modern sensibility.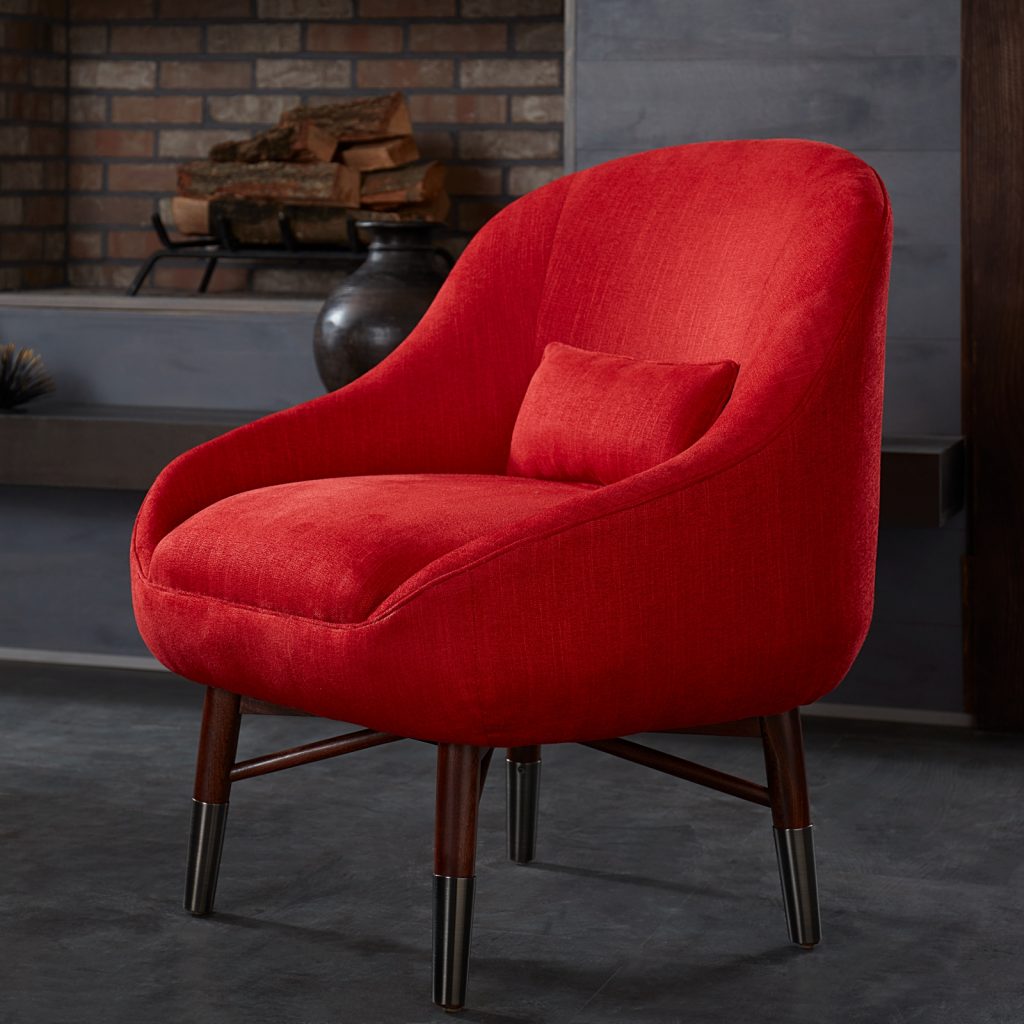 The Dune Collection takes its name from the breathtaking sand dunes of the Western Cape, such as Atlantis, Betty's Bay, and Dragon Dune at Vleesbaai. The shapes and color palette of the Dune Collection are nods to the landscape and textures of the region. The Dakar Sofa is a captivating piece reminiscent of African Muslim design with high, regal back and scalloped armrests. Like the throne of an inksoi (king), the Dakar is upholstered in fine mohair velvet and velveteen silk and includes accent cushions edged in genuine Tanzanian beads.
The Mali Chair is upholstered in printed velvet in a gilded gold, black, and cocoa geometric motif, adding a modernist twist to the organic shape of the seat itself. Like other BA designs, the Mali Chair can also be made-to-order with a client's COM. The higher back Namibia Chair, named for the country that shares its border to the Northwest of South Africa, is a BA bestseller known for its striking bright red linen upholstery. The kiln-dried maple legs are finished with metal ferrules at the base.
In the Dune table category, the Ghana Coffee Table is a statement piece of voluptuous proportion inspired by a kernel of corn, a sacred and oft used grain of the South African region. Edible and also a sustainable raw material, the Zulu word for corn is ukolweni (oo-kol-weh-nee). The Ghana is constructed of acrylic crushed agate and finished in antique cream. The cut-out interior is finished in gold leaf applique, creating a beautiful contrast in earth tones. The Congo Side Table is a Afro-modernist lattice of circle and semicircle constructed from solid maple. The Congo can be finished in a variety of hand-applied BA stains and lacquers.
Launched in 2017, the Bruce Andrew Curated was conceived as casual elegance for modern living. All clean lines and modern silhouettes, BA offers something for a person of casual, yet discerning taste. The Dixon is a statement centerpiece sofa that can be arranged with two to four, luxe down-filled back cushions. The Dixon is offered with either flared or straight armrests, waterfall or kick-pleat skirting at the base. Seating can be customized as a single, two-, three- or four-cushion format. The Dixon can also be customized in upholstery and finish.
The Wayne Chair is an experience in clean profile matched with luxurious comfort. Format options include the square low-profile on wood legs or glider swivel base with various finish options. Tailoring is offered in both single welt and seamless non-welt. The Bradley Chair is upholstered in genuine, cognac-colored Italian leather. Inspired by the formal dining chair with kick-pleat skirt; the Bradley's shape has been reimagined for a modern sensibility.
Commercial & Hospitality
Bruce Andrews also offers interior and outdoor collections for the commercial and hospitality sectors. From modern outdoor dining to boutique accommodation, trade designers are invited to contact us to learn more about either Bruce Andrews program.
Discover Bruce Andrews Furniture at Designer's Mark

Designer's Mark offers the complete portfolio of Bruce Andrews furniture. To learn more about this unique brand, contact us for a private consultation.