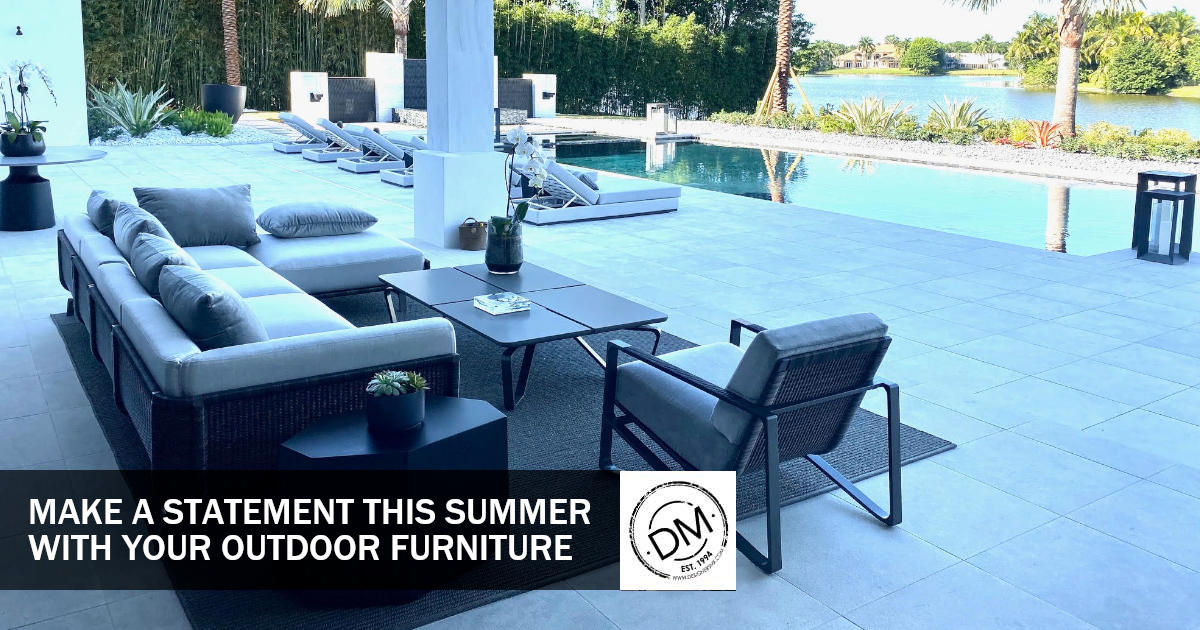 As our lives slowly return to normal, we can contemplate entertaining, even a small intimate gathering, to celebrate life as the Summer season approaches. Your outdoor space can be transformed with our select brands of outdoor furniture.
Floridians are known for their luxury condos, ranch-style homes, and vintage bungalows. Many residents have outdoor spaces that can include a backyard, patio, pool, or all three. The design and layout of outdoor living spaces are as much a part of the South Florida landscape as are its beautiful beaches and hundreds of miles of coastline.
Spring is an ideal time to get creative in planning your outdoor space prior to the region's low season (June – August). Summer is known for its high temperatures and sultry, tropical evenings. Designer's Mark has many options to choose from in luxury, weather resistant outdoor sets that can be mixed and matched or custom ordered to your specifications. We can help customize your outdoor project to scale and style impeccably.
Link
We'll start with the mid-century modernism of Link. New for 2020, Link launched the Malibu Collection.
Designed by Joseph Jesup, Malibu is inspired by the idyllic Southern California beach colony. Jesup created this collection with a classic American yet modern twist. The Malibu sofa is built on a hand-carved teak frame with cushioning offered in white or cobalt blue upholstery. The frame can be finished in natural, oiled, or weathered. The Malibu sofa measures 80w x 34.25d x 31h x 16sh / 4.751ah.
The Malibu lounge chair is constructed with a nod to Craftsman-style lines noted in its siding and square frame and is intended to function as a set with the sofa. The Malibu lounge chair is also available in white or cobalt blue and 31w x 34.25d x 31h x 16sh / 24.75ah.
The Malibu cocktail table is a perfect centerpiece for outdoor entertaining. The top is made of vertical teak planks mounted on two rectangular bases. A clean, modern minimalist piece, the Malibu cocktail table is available in three finishes and measures 64w x 34d x 15h.
Holly Hunt Outdoor
Next we have Holly Hunt, a leader in outdoor furnishings and design. The Holly Hunt Outdoor collections are made of expertly crafted aluminum framework pieces of graceful suspension and fluidity; benchmarks of elegance and Holly Hunt design style.
From the Moray Collection, the Omura Bar Cart is perfect for outdoor entertaining. Constructed of a refined linear frame mounted on rotating outdoor coasters for ease of maneuverability, the Omura Bar is both chic and functional. Available in finishes that can be mixed and matched of espresso frame with taupe interior shelves or white frame with taupe interior.
Also from the Moray Collection, the Omura Sofa is intended as a rhythmic interpretation of the Omura Lounge Chair. With its balance of clean, modern lines, interlace-weave backing, and custom Holly Hunt upholstered cushions, the frame is next level in the interplay between positive and negative space.
The Omura Lounge Chair has been featured in Elle Decor and Metropolis. Constructed with a slightly tapered, linear metal frame, the Omura is a beautiful balance between modern contemporary detail and generous upholstered cushioning. Its fluid structure is designed to engage with the space around it. Available in taupe cushioning with espresso frame or all-white cushioning and frame.
Kingsley Bate
Established in 1983, Kingsley Bate is known for its finely crafted and weather resistant Javanese teak furnishings. The company's collections have expanded to include stainless steel and all-weather wicker sets and pieces. Kingsley Bate is highly regarded for using traditional mortise and tenon joinery, which does not require nails or fasteners in the construction of a piece.
We adore the timeless Mediterranean style of the Amalfi collection, named for the famous coastal region of Italy's Sorrentine Peninsula. Designed by Andrew Gower, the Amalfi dining set is noted for its angular seats, square seating, and tapered legs. The Amalfi lounge set is offered with luxurious cushioning that can be upholstered in a variety of Kingsley Bate custom fabrics.
The clean, stylish minimalism of the Boca dining and bench set is perfect for casual outdoor family gatherings and intimate dinner parties. Designed by Cristian Wicha, the Boca is a modern interpretation of the classic picnic table made of teak planks set atop a high-grade #304 stainless steel and aluminum frame.
From the Kingsley Bate range of woven wicker, the Milano offers luxurious scalloped seating for dining during balmy Florida evenings. The Milano curved corner chair can be used as a single piece or added to the u-shape sectional set. The seating consists of padded cushions of reticulated, moisture-resistant foam. The covering is crafted from Batyline™, a vinyl-coated polyester that is both fade resistant and durable. Milano sets and pieces are available in driftwood wicker and taupe sling or shadow wicker and gray sling color options.
Lectus Furniture
Established in 2015, Lectus (Latin for select or excellent) has built a reputation for high-quality and weather-resistant outdoor collections for the 21st century. Known for their precise craftsmanship and cutting-edge technology, each Lectus aluminum frame is powder coated and the interlace-weave synthetic fibers are made with anti-UV protection to mitigate sun and chlorine damage.
Each Lectus collection is named for the storied and beautiful cities of Italy, a country with a history of exquisite artisanship and design. The Firenze line is named for Florence, the center of the Italian Renaissance. Made of a flawless interlaced woven pattern around a central circle, the Firenze sofa is available in two- or three-person seating and a variety of custom Lectus fiber and frame options. The Firenze coffee table is a beautiful component to an outdoor set or as a stand-alone piece. The Firenze coffee table is offered at 14'h x 43" w x 30'd with a glass top insert of 43" x 30".
For relaxing by the pool, the well-appointed Firenze Chaise Pool Lounge is designed with interlaced facing set atop a sleek metal frame on rectangular head and foot bases that balance positive and negative space.
South to Napoli and the two-seat sofa with interlace-weave backing set atop a sleek and stylish frame. The generous cushioning is available in Lectus' charcoal black in addition to a variety of custom colors. The Napoli Coffee and Side Table are examples of Lectus' clean geometric design that makes a bold statement in captivating contrasts.
As always, our exceptional brands of outdoor furnishings can be mixed and matched into unique combination sets and decor to suit your personal style and imagination. Our Boca Raton showroom has now reopened (Mon – Fri, 9am – 5pm EST).
---