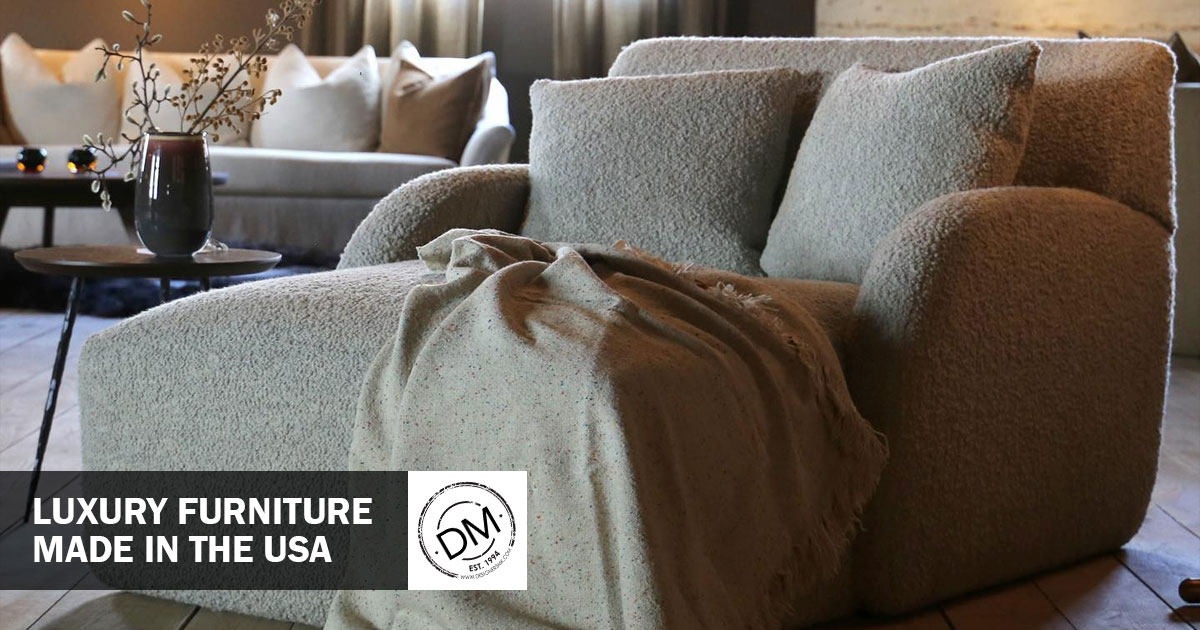 Quality furnishings that stand the test of time are the best investment, and there's no place better to look than USA-made luxury. The right furniture can elevate your space and your style, and sourcing from local manufacturers promotes sustainability and fosters local artisans. Not sure where to start? We're here with some of our favorite stateside designers to help you find inspiration.
USA-Made Luxury Furniture
Supporting American design brands has many benefits. Outside of supporting new and upcoming American designers, you can furnish your home with the promise of quality craftsmanship. Locally-sourced furniture also works as a conversation starter and is an easy way to add personality to your home. Whether it's sourced in the USA, or created in workshops across the country, you can enjoy luxury American design from sustainable sources.
Verellen
With its beginnings in Antwerp, Belgium creating masterpieces of the old and new elements infused in perfect harmony. Moving to Highpoint, North Carolina and establishing a manufacturing facility that taps into the knowhow of the local furniture builders. Above all, they take pride in supporting the next generation of artisans and continuing handmade craftsmanship techniques.
Eight-way hand tied frames from sustainable sourced lumbar and coil springs that are recycled. All steps are carefully thought through to create an environmentally conscience piece that is built on time tested manufacturing standards.
Precedent Furniture
Precedent Furniture is a good go-to staple for well-priced custom furnishings, with StudioP letting you choose between thousands of configurations for that perfect piece. Some spaces just don't work with off-the-shelf products, and Precedent provides luxury made simple to pull your space together.
They manufacture out of Newton, North Carolina, and hold sustainability as a key driving force behind their work. They strive to reduce general waste, source US wood certified by the Sustainable Forestry Initiative (SFI), and ensure upholstery materials like cushions, steel, and staples are sustainably sourced.
Hubbardton Forge
For 47 years, Hubbardton Forge has had their work designed, created, finished, and shipped from their Vermont workshop. Every item is made to order, making custom options a breeze.
From humble beginnings in 1974 to a team of more than 230 today, Hubbardton Forge understands the importance of strengthening the local economy and offering reliable lead times and deliveries. Most importantly, they create lighting fixtures that inspire and elevate your home.
DOMESTIC by SUNPAN
SUNPAN focuses on modern and transitional-styled furnishings that bring effortless luxury and sustainability. Their Shop Sustainable range marks furnishings created with responsibly sourced materials, like recycled fabrics, locally sourced materials, and FSC-certified wood.
The DOMESTIC range also bears the Made in North America standard, the product of local artisans and economically-friendly materials.
Art + Alchemy
Art and Alchemy are based out of Vermont, with a workshop designed to help artisans hone their craft and create pieces that are truly innovative. From the eccentric to the simple, they provide lighting solutions for all home styles and trends.
They work with a wealth of natural materials, like cast metals, steel, stone, wood, and hand-blown glass, and they're always on the lookout for something new and inspiring.
Luxury Furniture at Designer's Mark
Our design consultants know the importance of creating spaces that inspire with local talent and workmanship. If you want to discover American-made luxury furnishings, our Boca Raton showroom has the best in high-quality designer furniture. Contact us today at (561) 961-4149.
---