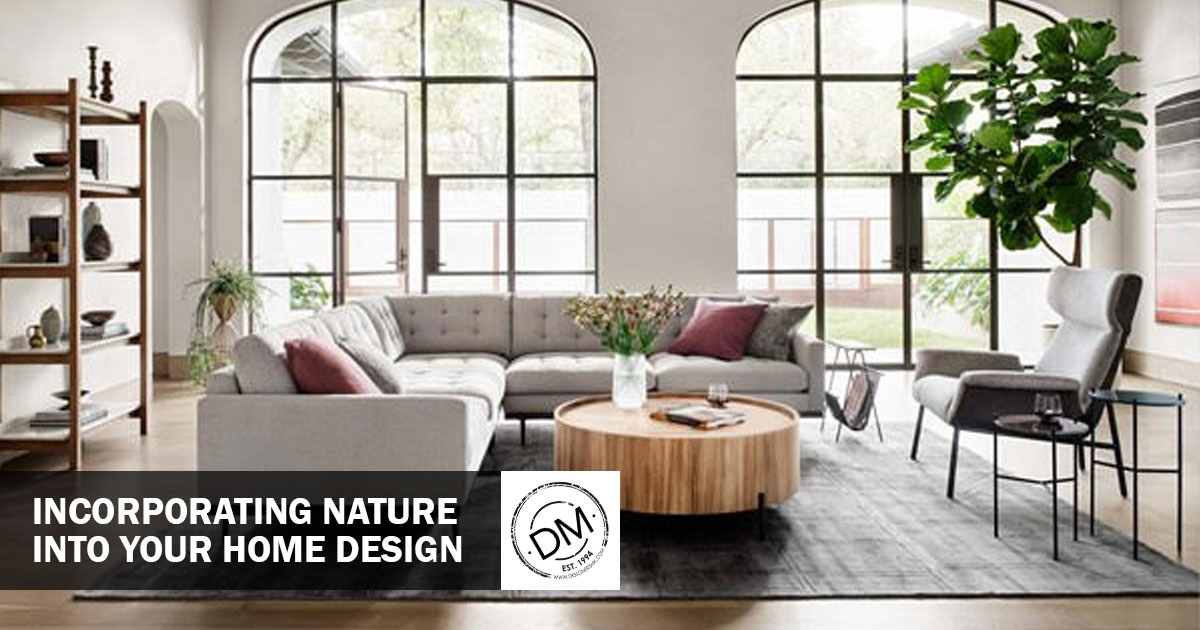 The green shades of nature are a bright and inspiring burst of fresh air in an otherwise simple home. With a nature-focused approach to home design, you can bring the outdoors indoors and create a space where you feel revitalized as the colors of nature intentioned you to be.
Nature-Based Home Design
How you bring nature into your home is going to depend on your personal style. Some may go bold with a living wall, and others may wish to create a space that's reminiscent of the outdoors. Whatever suits your home's style, there's a way to bring natures beauty into your home living.
Color Scheme
We'll start with the most important color: green. You don't want to use just green but finding a shade that you love will work wonders when contrasted with the rest of your home. Earthy greens and burnt orange tones are earthy and can make you feel calm and grounded. However, be wary of darker colors in rooms without a lot of natural light.
Natural light will bring your nature-focused design to life. Sunlight and nature go hand in hand, and they shouldn't be part of your home's design. You don't need floor-to-ceiling earthy tones, make sure to balance your colors so that you have room for expression with accessories.
Choosing Textures
Another way to bring nature into your home design is by choosing natural textures. Wooden shelving or desks, natural linen or cotton on couches, and marble kitchen countertops can all evoke a feeling of the outdoors— and all in different ways! A rich antique wooden desk can make a simple office sophisticated, and natural fibers on furnishings can bring a sense of comfort and openness.
Plant Life
Simple but effective, houseplants are the easiest way to bring nature into your home. Not only do they purify the air, but the right plants also act as air fresheners. Fragrant herbs in your kitchen serve both form and function, always within reach for cooking.
You can get creative with your home design's natural style. Flowering plants, hanging planters, and larger potted plants all open up your space and offer a pop of calming color. It doesn't matter if you don't have a green thumb, either! Palms, ferns, aloe, ivy, and peace lilies are all low maintenance, making elevating your space easy.
Wallpaper
Botanical wallpaper brings a different form of nature into your home. Botanical prints can open up your space just like natural plant life would, especially if you match your print with naturally textured furnishings.
In contrast, you can bring the natural fibers to your wall. A favorite of ours is the grasscloth by Mark Alexander, created with real botanical fibers, handwoven and finished to perfection. From the soft Seagrass tone that would find a home in any seaside space, to the refined and clean Abaca beige, grasscloth adds an elevated level of texture to your home.
Meeting Your Indoor and Outdoor Living Areas
Not sure where to start? We love starting with your outdoor space and making sure there's a cohesive path that leads indoors. Your conservatory or patio is the best place to start, as it's the border between nature and the interior of your home.
Tall wall planters on your patio can lead seamlessly into hanging planters inside, bridging the gap between your spaces and helping to create your outdoor oasis. Your outdoor living area also probably leads into your living area or kitchen, meaning you can easily flood these rooms with sunlight and the natural touch of the outdoors.
Home Design with Designer's Mark
Here at Designer's Mark, we love revitalizing homes. Call our Boca Raton interior design showroom or visit our website, to schedule a consultation with one of our collaborating designers. We'd love to help you create the very best in botanical home design. Contact Designer's Mark today to get started on the home design of your dreams!
---