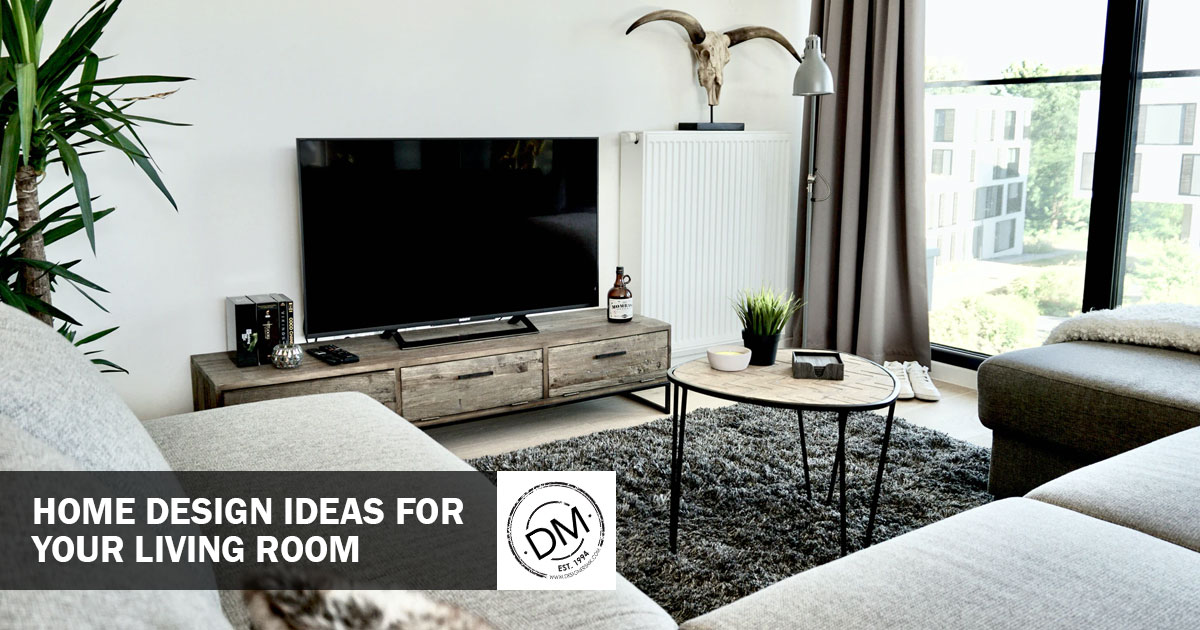 When you consider the design of your home, your living room is where you spend most of your family quality time. It's generally the place where you invite your guests to sit down and feel at home. So, the design of your living room needs to not only look great, but be both functional and practical too. Trying to find that perfect balance can be challenging but with Designer's Mark in your corner as an interior design resource to procure the right pieces, there is no substitution.
From home design to decor to designer furniture, our team has got you covered. We've rounded up some of the best home design ideas for your living room to help take your space to the next level. From modern and formal sitting spaces to a living room built for comfort, you'll find the right pieces to incorporate in the right way.
Incorporate Rich Velvets
Velvet, version 2.0 has resurfaced as a luxury finish you cannot do without. It is the perfect combination of sophistication and comfort: it is soft to touch and looks luxurious to sit on. Consider designing your living room with velvet furniture choices and bold wallpapers to make it stand out and seem truly inviting for your guests. At Designer's Mark, we carry a wide range of designer furniture and wall coverings with velvet options to suit any palate. Discover Holly Hunt furniture for a velvet couch that is at the forefront of style and quality, or explore our wall covering designs to find the all elusive, exotic and sophisticated look you crave.
Get Creative With Throw Cushions & Rugs
The decor of your living room should be top of your priority list when considering new home design ideas. It's the part of your home design you can have the most fun with.
Get creative when choosing your throw cushions and rugs, as they can truly transform your space from bland to chic with just a few bold color choices or patterns. When you look at your throw cushions and rugs as artwork, you can start to visualize how they can fit into your living room design. With the resources at Designer's Mark, you can view Feizy or our very own private label rugs, that use patterns inspired by our dynamic world, to make you feel like your living room has been transformed right out of the pages of a Design magazine. In addition, consider our range of top tier designer fabrics to custom create your very own personalized throw cushions to enhance your space.
Go Wild With A Color Scheme
Sticking to a color scheme in the living room is the perfect way to give it that cozy inviting feeling, while also giving you creative freedom.
Colors are a great way to help give people a sense of familiarity. For example, if you're choosing the color scheme for your beach house living room, then you can choose to incorporate colors that remind you of the sea, such as blues and whites. Sticking with one particular color scheme is also a great way to bring a sense of sophistication and style into your home, and helps give you direction when choosing your furniture and decor.
Go Cozy & Rustic
There is nothing more welcoming than a cozy and comfortable looking living room. Incorporate a cozy and rustic theme for your living room design to make your guests feel more at home.
Thinking… cabin in the woods, make it in your own in the living room. To create this, you can incorporate a rustic coffee table, some wicker baskets, statement lighting, and a comfortable throw for your couch.
If you are in love with the idea of creating your own space, consult with our design team today, or review our selection of indoor furniture and decor accessories to find the best pieces to bring your vision to life.
Visit Our Showroom For Home Design Ideas
Our team of expert designers and consultants have been perfecting the home design space since 1994. If you're looking for fresh ideas to transform your living room space into something you can be proud of, visit our Boca Raton showroom today for inspiration, or simply give us a call at 561-961-4149 to begin your new home design journey.
---