If you're looking to stage your home to sell it, or simply want to create a beautiful home space that combines the different styles of the globe into something elegant, exotic, and showstopping, then Global Views home accessories might be the right choice for you. Since 1997, Global Views have worked alongside experts to produce unique collections of home decor accessories, to accommodate a wide range of interior styles.
Designer's Mark is proud to showcase many of these exquisite products. The Global Views accessory pieces are expertly crafted by skilled artisans from around the globe, leaving you with an endless choice to create an interior space that will inspire. Let's take a deeper dive into some of our favorite Global Views designer collections to help you choose which accessories and pieces are right for you.
Barbara Barry
Barbara Barry is one of the world's most eloquent designers. This collection from Global Views encompasses chic modern living and boasts neutral colors to fit an array of interior spaces.
Aerial Charger

These charger plates are the perfect addition to any dining setting. The cloud pattern is inspired by Californian sand beaches and hilly terrain, bringing a taste of the U.S. West Coast into your home.

Prism Collection

This unique collection of vases and pots can be used throughout your home to host beautiful plants and flowers. The range includes a variety of colors and sizes to choose from, to suit all of your different needs.

Parquet Tray

This rustic looking tray can be multi-purposed for an outdoor or indoor area, and is perfect to place a vase of flowers, candles, or some magazines and books on. It can transform your coffee or dining table from plain to chic.
Williamsburg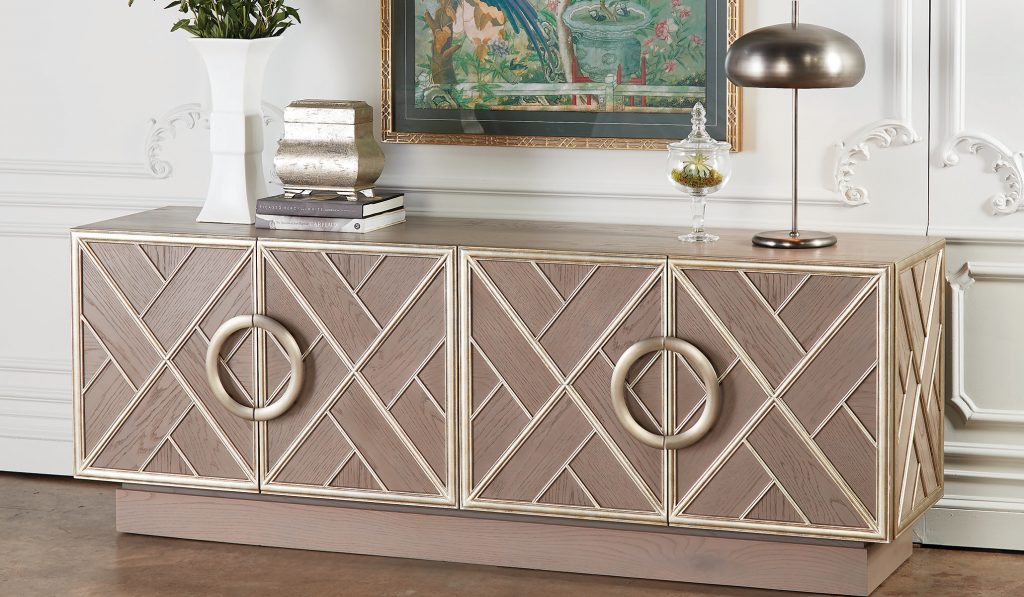 The Williamsburg collection is where trend meets tradition. These products are inspired by antique styles, rare books, and family heirlooms.
Fincastle Mirror

The Fincastle mirror screams of palatial glamour and is the perfect addition to a showstopping dining room or entrance hall. It is made of solid hardwood and covered from top to bottom in antique silver metal leaf and finished with antique lacquer.

Weathervane Side Table

This side table is truly extravagant and is inspired by the early 18th century ironwork in Williamsburg, Virginia. The table legs are a spiral shape, made of nickel finished iron, which is framed with a thick glass top. This side table will wow your guests and make them feel as if they're on the set of Downton Abbey.

Dickinson Club Chair

This occasional chair is a brilliant combination of style and comfort. The cushion is made of soft and supple leather and is framed in a stylish grey stained rubberwood.
Ann Gish
Ann Gish is notorious for her exquisitely detailed and well-constructed products, that are inspired by luxurious living. The Ann Gish collection for Global Views is simple in its elegance, leaving you with many unique pieces to choose from.
Ellipse Bench

This comfortable and stylish bench is inspired by the glitz and glam of the roaring 20's. It can be perfectly matched with a sideboard and table that make up the Ellipse collection.

Argento Chest of Drawers

This piece is generous in size and storage space, and ideal for an addition to your bedroom. It is traditional in style, with a touch of sophistication.

Ellipse Cocktail Table

This cocktail table is wonderfully glamorous, and equally practical. It can be used for an entertainment space, or to place books and magazines for an office waiting area.
Global Views At Designer's Mark
From bold mirrors, to timeless vases, Designer's Mark is proud to host a variety of Global Views home décor and accessories that inspire. The style of your home or office space should be a reflection of who you are, and our showroom gives you the choice to do that. Visit us today or give us a call at (561) 961-4149 to find out more on some of the amazing pieces we have to suit your interior design needs.
---