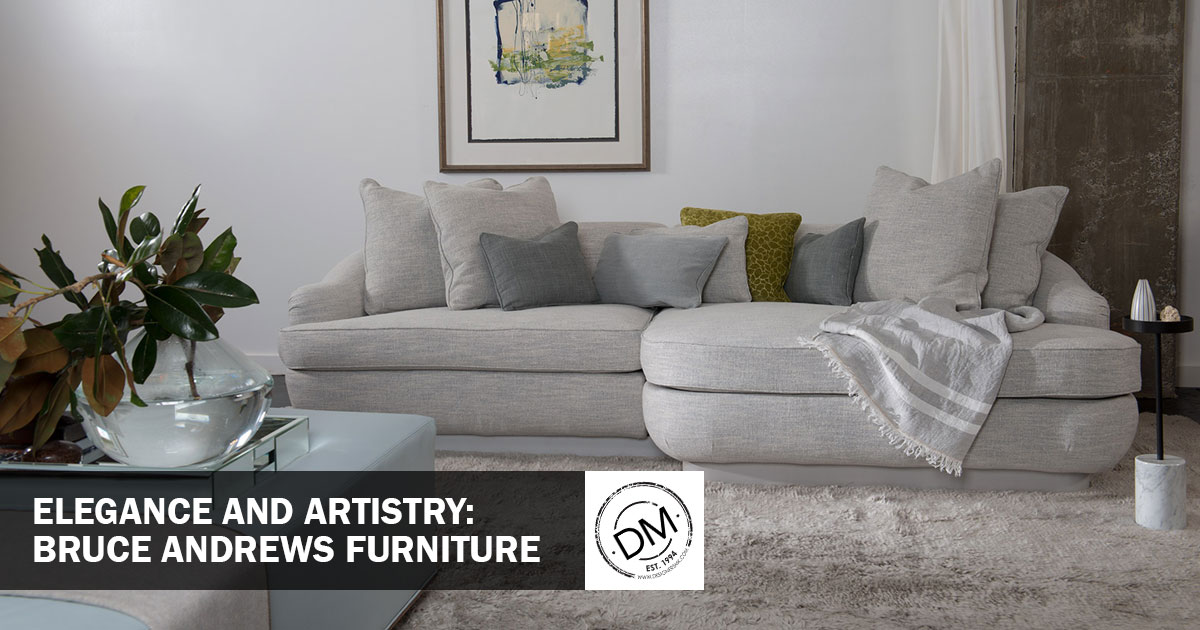 Bruce Andrews Furniture uses the saying: luxury is a point of view. The elements you choose for your home are luxury through both their craftsmanship and through your own eyes. By working with preservation in mind, Bruce Andrew's artisans design furnishings that will stay as heirlooms for years to come.
Bruce Andrews Furniture: The Philosophy
Artisans at Bruce Andrews Design work tirelessly; creating luxurious pieces, truly made in America. Piece by piece, they imbue timeless elegance into their designs and pass on skills and techniques of luxury craftsmanship, allowing the next generation to follow in their footsteps. This forward-thinking approach creates furnishings that stand the test of time.
They start with American kiln-dried maple wood, serving as the perfect frame for each furnishing. Above that, African mahogany, oak, alder, rosewood, and walnut all find their place in inspired designs, utilized carefully with expert craftsmanship. Embellishments are created by skilled American artisans; with trims from Los Angeles and ferrules for the feet by a Rhode Island jeweler. Lastly, each Bruce Andrews furniture design is numbered and signed; truly a sign that the furniture you have in your home is bespoke.
World-Inspired Collections
Bruce Andrews furniture is undoubtedly inspired by many places around the world; those Bruce Andrews calls home and those which hold a special place of inspiration. The artisans create each piece with the utmost care, bringing unique techniques and these global inspirations from page to final product, luxury at every step of the process. Each design is a collaboration with an orthopedic surgeon; ensuring the best shape and style for comfort and support.
Dune
The Dune collection draws inspiration from Africa. Earthy tones abound, with polished wood finishes and airy colors that evoke the Cape Town seaside and north-African Sahara. Made from a variety of woods, like maple, ash, and walnut, these pieces feel connected to nature in their simplicity and refinement.
Skye
Hailing from Scotland himself, Bruce Andrews' Skye collection feels both luxurious and comfortable. The Highland Chair in rich blue with detailed feet feels unashamedly Scottish, striking a perfect chord of timeless elegance. Some designs also feature embellished heraldry, the lions of Scotland decorating chair backs for a majestic finish.
Azure
The Azure collection finds itself on the more modern end of timeless. Nevertheless, every piece in the collection stands the test of time. Heavily inspired by South Africa and the local coastal destinations, these furnishings feel light and luxurious at the same time. As with all of their collections, fabrics and finishes are up to you.
Giving Back: The Tree of Life Foundation
Bruce Andrews Design takes longevity seriously. For every chair that's delivered to a new home, a tree is planted near the Bruce Andrews atelier in Georgia. The tree is outfitted with a brass plaque and one of two things. Either the purchaser's name, or with the name of the designer who worked on it.
Each purchase also helps to foster the Bruce Andrews Design Academy. The academy works to foster and keep the talents and techniques of luxury furniture creation alive in America; creating a new generation of skilled artisans to keep design moving forward.
Bruce Andrews Furniture At Designer's Mark
If you're looking for a piece that'll stand the test of time, draw inspiration with Bruce Andrews furniture. We can't wait to work with you to bring your personal style to life through your home's design. Contact us today at (561) 961-4149 to schedule a private consultation with one of our expert interior designers. Additionally, fill out our online contact form; let's get started, today!
---