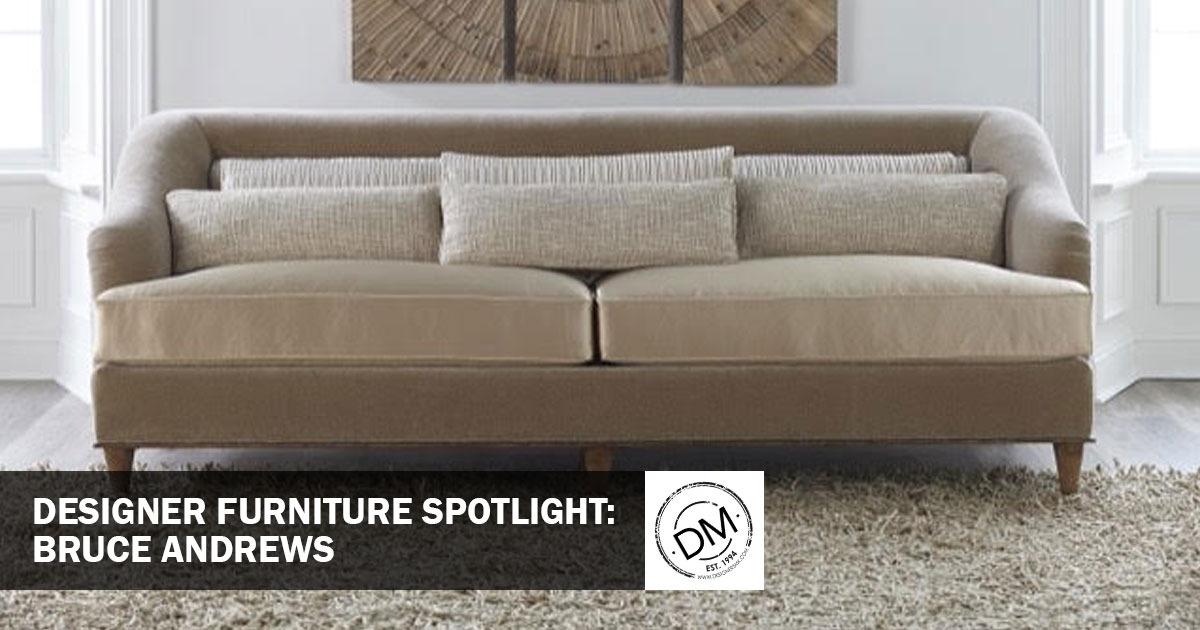 Nothing is quite as satisfying as an investment piece paying itself off with beauty, comfort, and style. Designer furniture from Bruce Andrews does just that and more, taking bespoke furnishing to a new level of sophistication and elegance.
The Bruce Andrews Process
Luxury should be sustainable. Bruce Andrews believes that once you've made an investment it should grow with you, making it through your various preference and style changes over the years.
"I've seen too many people thinking that luxury means that you can change things out and perpetuate newness. But luxury to me is that endurance of time—and really beautiful fabric."
The designers at Bruce Andrews begin each design with a careful plan and a full story. The pieces they create are thoughtfully put together from the bones out, with an attention to detail rivaled by none. They firmly believe in retaining practicality throughout the pursuit of luxury. They design pieces to fit into the actual lives of their clients, not just their rooms.
For years, craftsmen have stated that wood will sing in the right hands, and that the possibilities are infinite when the right kind is chosen to become an inspired piece. Bruce Andrews is well-known for adding stunning detail to wooden legs of their pieces, clearly meeting their goal of achieving perfection while producing eye-catching designer furniture.
The Comfort Of Bruce Andrews Designer Furniture
The secret to the comfort of Bruce Andrew's furniture is their collaboration with orthopedic surgeons during the design process. Each piece is designed with the human body in mind. They look at everything, including: the seat elevation, the angle of the backrest, and where the arms will rest.
After designing the ideal seat, the pieces are built, stuffed with the most luxuriant down, and covered in jaw-dropping fabrics that perfectly complement the shape of the piece.
The Bruce Andrews Aesthetic
Bruce Andrews seeks to redefine luxury interior design, moving away from cookie-cutter home designs to highly curated and personalized havens. Their approach to designing custom furniture is truly inspiring, as they design with the client as opposed to designing for the client.
"Our aesthetic recalls our heritage. How we design, how we live… how we see those spaces called home. The quality speaks to a distinct take on affordable luxury."
This brand's passion for handcrafted furniture has reinvigorated the furniture industry, reminding the world what true craftsmanship looks like. Their finished pieces reflect the quiet determination that brought them to life from simple pieces of wood and swatches of fabric.
The Bruce Andrews Heart
More than a furniture brand, Bruce Andrews runs an initiative called The Bruce Andrews Design Academy. It provides opportunities for challenged youth to become thriving producers in the furniture building community. A portion of every sale from The Tree Of Life Foundation goes towards the Academy, preserving American craftsmanship and traditions while providing these children with a second chance at their futures.
Bring Bruce Andrews Design Into Your Home
There is no doubt that Bruce Andrews is a reverse-pioneer in the furniture design industry. Instead of trying to find new, rushed ways to create furniture, they've returned to the roots of high-quality handcrafted furniture design. They combine unparalleled skill with timeless aesthetics, ensuring your Bruce Andrews pieces will last you for decades to come!
"Our guiding principle is producing the embodiment of luxury, one fine piece of furniture at a time."
Designer Furniture in Boca Raton
We are proud to stock incredible designer furniture pieces from Bruce Andrews at Designer's Mark. We will gladly help you integrate their gorgeous style into your home. Ready to get started? Fill out a contact form today and a consultant will be with you shortly!
---