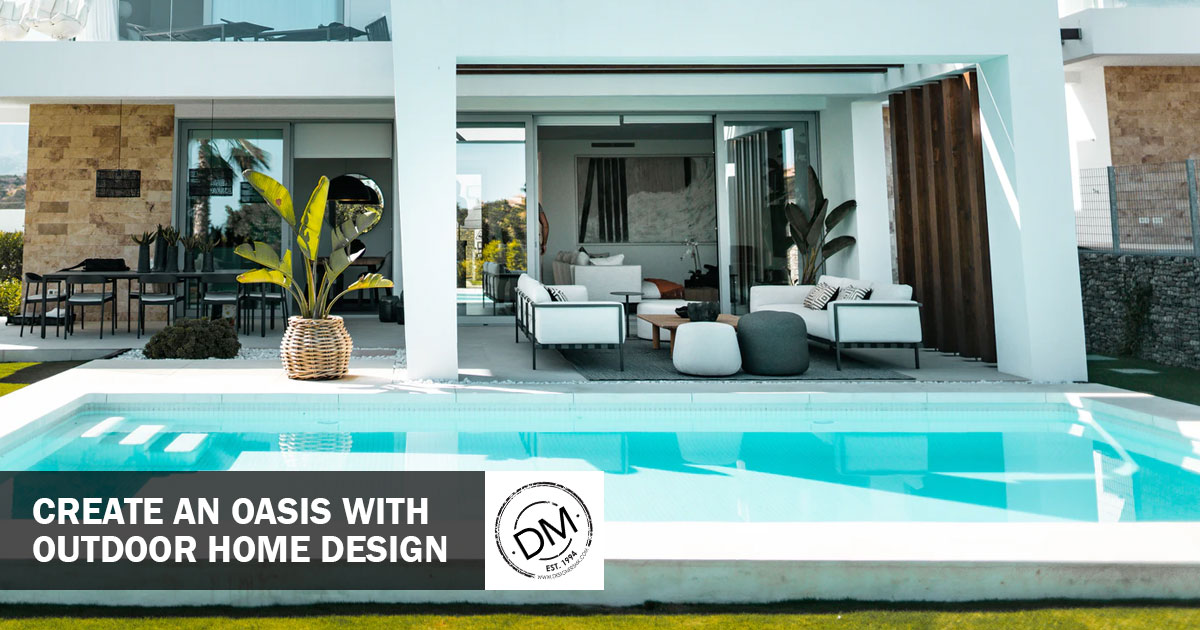 With spring blooming and summer right around the corner, now is the best time to get your outdoor space ready for entertaining. Whether poolside or fireside, curating your outdoor home design is essential in creating a space that's uniquely you; and perfect for receiving guests and relaxing on those long summer days.
Good outdoor design can make or break the way you feel about your home— especially when your backyard becomes your primary living area through the warm months. Take a deep dive into the creation of your own private oasis and be inspired to get your backyard summer ready.
Personal Outdoor Home Design
Your outdoor space should be designed just like your home's interior; keeping balance and cohesiveness in mind in the design process. While interior and exterior areas have fundamental differences, they still combine to create one space, and the sense of cohesiveness and flow created by matching these areas adds that essential touch of luxury.
Light and tropical-inspired homes with wooden accents would match well with an outdoor area designed in a similar fashion; light cushions, wicker chairs, and outdoor furnishings that highlight the natural greenery. Homes with a sleek and modern design can benefit from darker accent tones in the backyard. Similarly, dark woods and finishes can create a pop of contrast for a luxe atmosphere.
Most importantly, function and form need to work together. Outdoor home design, at its core, should revolve around your needs and your lifestyle. Is this an outdoor relaxation area for you alone, or are you expecting many guests? For those who enjoy entertaining? Organizing your outdoor seating is going to be different from those who prefer their backyard to be a private paradise. Luckily, these aren't design choices you have to make on your own.
Creating Your Oasis
Once you have your general theme and atmosphere in mind, it's time to start looking for pieces. We've collected a few of our favorite outdoor designers to inspire you, showcasing the very best of luxury outdoor design.
Holly Hunt
Holly Hunt brings a touch of lightness and sophistication to furnishings that are unequivocally modern. Simple and structured in design, Holly Hunt pieces toe the line between traditional wicker garden furnishings and sleek geometric designs. The Scarab lounge and dining chairs combine a serene, corded pattern with a design-forward silhouette; perfect for modern and minimalist spaces.
The breezy Moray Collection brings the feel of the seaside into your backyard, evoking that summer feeling all year round. With Holly Hunt's extensive custom finish options, there's no shortage of ways to make collections that inspire you work for your space.
Lectus
With innovation at the forefront of their design philosophy, Lectus brings something new to the table with each collection. A personal favorite of ours is the Roma Loveseat. Large enough for comfortable outdoor entertaining; and available in a wide array of fiber finishes and patterns, fabrics, and aluminum frame colors.
Ledge Lounger
Let's not forget a central part of your backyard: the pool. Ledge Lounger has a wide selection of in-pool furnishings that add luxury to your swimming experience. The Signature Chaise, paired with elegant side tables, brings in-water relaxation to a whole new level. With resin finishes in neutral and soft tropical tones? Find a new way to spice up your outdoor space this summer!
Custom Home Design With Designer's Mark
Looking to get inspired? Visit us at our Boca Raton interior design showroom and let us help you select your next best backyard furniture. We're excited to bring quality craftsmanship and that touch of luxury into your living space; bringing your interior luxury, to the exterior.
For more inspiring interior design content, check out our Designer's Blog and follow Designer's Mark on Facebook!
---